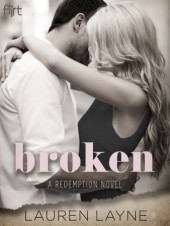 Description:
When Olivia Middleton abandons the glamour of Park Avenue for a remote, coastal town in Maine, everyone assumes she's being the kind do-gooder she's always been. But Olivia has a secret: helping an injured war veteran reenter society isn't about charity—it's about penance. Only, Olivia's client isn't the grateful elderly man she's expecting. Instead, he's a brooding twenty-four-year-old who has no intention of being Olivia's path to redemption . . . and whose smoldering gaze and forbidden touch might be her undoing.
Paul Langdon doesn't need a mirror to show him he's no longer the hotshot quarterback he was before the war. He knows he's ugly—inside and out. He'll do anything to stay in self-imposed exile, even accept his father's ultimatum that Paul tolerate the newest caretaker for three months or lose his inheritance. But Paul doesn't count on the beautiful twenty-two-year-old who makes him long for things that he can never have. And the more she slips past his defenses, the more keeping his distance is impossible.
Now Paul and Olivia have to decide: Will they help each other heal? Or are they forever broken?
My Review: Love the cover!
Read in September 2014
Genre: Romance/Standalone
3.5 Pink Bubble-Gum Stars
Paul and Olivia have one messed up working relationship. They need to figure out how to work as a team. But with Paul and his hard ass feel sorry for me ways it get's in the way. As they go on day by day without breaking promises it gets a little frustrating.
[ I wanted to slap Paul many times and tell him to buck up and stop being a baby. He had someone there who was actually helping him in his process and many times he treated her like crap. Until she finally opens her eyes and walks away.
Sometimes Paul could make you laugh when he say's things when you least expect him to.
"No catch. Actually, that's not true. I fully intend to trade conversation for a blow job later."
I can't believe Paul comes to his senses and
[ leaves his former life behind to show Olivia what she really means to him. It was about time! I mean open your eyes and get off your high horse your only feeling sorry for yourself. You can only push so much before people start not to push back.
I enjoyed this book and will pick up more from this author. Glad it was also a standalone!
"No matter where I look, my walls are crumbling, and this damned girl keeps presenting me with the most dangerous element of all.
Hope
."
**Links**
http://www.amazon.com/Broken-Redemption-Novel-Lauren-Layne-ebook/dp/B00IWTSKBW/ref=sr_1_1?s=digital-text&ie=UTF8&qid=1411336816&sr=1-1&keywords=broken+lauren+layne
https://www.goodreads.com/author/show/6969772.Lauren_Layne
https://www.goodreads.com/book/show/21408690-broken
http://www.barnesandnoble.com/w/broken-lauren-layne/1120019658?ean=9780553390353
About the Author: