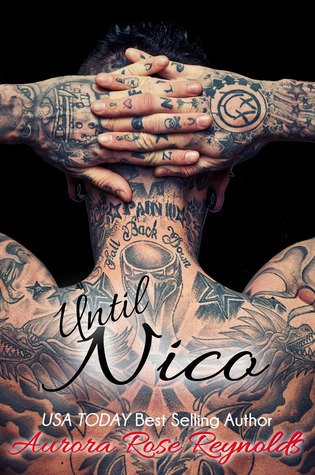 Blurb:
Sophie Grates has never had it easy, but she's finding her way through life one step and one day at a time. That is, Until Nico comes in and flips her world upside-down. He forces her to see you cannot live life from the outside looking in, and sometimes you have to step out onto the ledge so you can really enjoy the view.
Nico Mayson knew the moment he saw Sophie Grates that she was the one. His whole life, he has been judged by what's on the outside, so finding a beautiful woman who sees the real him only makes his feelings that much stronger.
Nico knows the kind of man he is, and the things he is capable of, and he will do everything in his power to help Sophie fight her demons so they can have their happily ever after. Everything in life worth having is worth fighting for.
***************
My Review: 4.5 Booming Hearts
Read in July 2014:
Genre:
Romance
,
Contemporary
,
Suspense
Loved it! Nico is so sweet and the words that come out of his mouth YUM!! *Swoon*
How does Aurora do it? Continue to write books that consume all of our thoughts and collect pieces of our hearts and distribute them piece by piece to each one of her beautiful characters! She truly is amazing!
Niko has consumed all of my thoughts and had my heart fluttering in just a short time I spent with him. I was holding onto every word he said and squeezing myself tight.
Sophie was strong, shy, loving and so beautiful. A take charge kinda woman she knew what she wanted even though she was a little shy she just needed a little Mayson push to break free from her shell.
Made me think of Nico
http://pinterest.com/pin/394205773606...
"No man wants to give a woman the power to crush his ego, and baby, I hate to tell you this, because I like that you don't realize how beautiful you are, but you are the kind of woman that could make a man feel like he has it all or make him feel like he has absolutely nothing."
About the Author:
Aurora Rose Reynolds is a navy brat who's husband served in the United States Navy. She has lived all over the country but now resides in New York City with her Husband and pet fish. She's married to an alpha male that loves her as much as the men in her books love their women. He gives her over the top inspiration everyday. In her free time she reads, writes and enjoys going to the movies with her husband and cookie. She also enjoys taking mini weekend vacations to nowhere, or spends time at home with friends and family. Last but not least she appreciates everyday and admires it's beauty.